Shuffle Time 4
Warning
Adobe has blocked Flash content from running in Flash Player since January 12, 2021. The emulator is still under development, but should be completed by the end of this year.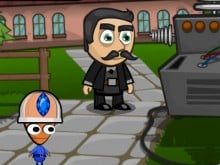 Shuffle Time 4
• Published May 13th, 2016 with 3448 plays
Platforms:
Get ready to travel in time!. The time machine is broken and various items from various eras got mixed up. Your task is to put them in the right place again. Do your best and move forward in the game. The game takes place in 11 different times.