Strike Force Heroes 2
Warning
Adobe has blocked Flash content from running in Flash Player since January 12, 2021. The emulator is still under development, but should be completed by the end of this year.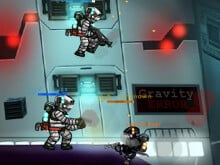 Strike Force Heroes 2
• Published Mar 27th, 2013 with 56013 plays
Controls:
mouse, movement - WASD, jump - space bar, change weapon - Q
And here we have the second part of this fantastic game in which you have to be a great soldier and fulfil various tasks. In most of them you will have to kill enemies or save innocent people. Then, you can buy some weapons or other equipment in the shop.