Teleport Gun
Warning
Adobe has blocked Flash content from running in Flash Player since January 12, 2021. The emulator is still under development, but should be completed by the end of this year.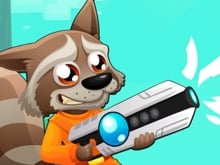 Teleport Gun
• Published Jan 8th, 2016 with 4983 plays
Platforms:
Help this hero get through all the 30 levels and win all 15 awards. Use the teleport gun to bring your hero from one side to the other and win as many stars as possible. It is important he manages to get to the exit. It may sound pretty simple, but this definitely isn't the case!