Tentacle Wars: The Purple Menace
Warning
Adobe has blocked Flash content from running in Flash Player since January 12, 2021. The emulator is still under development, but should be completed by the end of this year.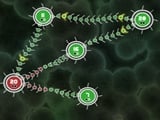 Tentacle Wars: The Purple Menace
• Published Mar 7th, 2011 with 6033 plays
With the green cells your task is to occupy all the enemy bases. Initially it will be easy, but with more levels, demands will increase.