Third Kingdom
Warning
Adobe has blocked Flash content from running in Flash Player since January 12, 2021. The emulator is still under development, but should be completed by the end of this year.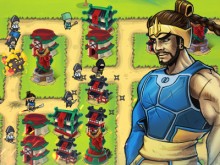 Third Kingdom
• Published Jun 11th, 2016 with 8765 plays
This is a Tower Defense online game in which you build towers where your soldiers will be situated. They will shoot at attacking enemies. The game takes place in China between the years 169 and 280. You become general Liu Bei and must defend the country. Unlock new skills and improve your chances of winning.