Ultimate Tower
Warning
Adobe has blocked Flash content from running in Flash Player since January 12, 2021. The emulator is still under development, but should be completed by the end of this year.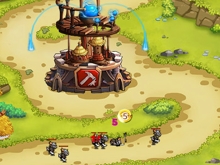 Ultimate Tower
• Published Feb 14th, 2016 with 6012 plays
Platforms:
This Tower Defense game is a bit different because you will always have just one base which will create soldiers you can control. Get as far as possible and destroy your enemies. Your success is all that matters. Defend your base as best you can and upgrade it in order to make it strong and safe.