Vex 4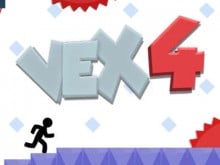 Vex 4
• Published Oct 13th, 2018 with 16525 views
Platforms:
Controls:
Up




Left

Down

Right

movement
In this game, you will play as the main hero who has to swim, climb, jump, fly and get through 9 different levels. This game offers you quite a bit of fun. Get through individual obstacles and use your reflexes to get through each level of this game. Become the champion at the end of the game. There's a ton of areas to get through.

100% 9.4k plays
Published: Jan 11th, 2013 Flash In this great jumping game you will have to overcome different obstacles.

70% 10.4k plays
Published: Jun 20th, 2013 Flash There will be many obstacles in this jumping game so start right now.


89% 9.2k plays
Published: Jul 31st, 2014 HTML5 Vex sequel where you have to run all the levels as quickly as possible.