Wacky Strike
Warning
Adobe has blocked Flash content from running in Flash Player since January 12, 2021. The emulator is still under development, but should be completed by the end of this year.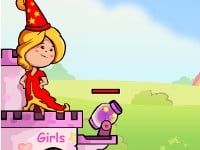 Wacky Strike
• Published Jun 18th, 2015 with 6447 plays
Platforms:
Controls:
Mouse = interaction
In this game you will gave a great fight. Your task is to create a really strong army. Collect as many coins and lollipops as possible you that you can build new buildings and create new soldiers who will gain new territories. Control enemy territories and win! This is mostly a fight between girls and boys.