Battle gear

Battle gear
• Published Jan 9th, 2009 with 10075 plays
Controls:
mouse, pause - P
You are the commander and the war is just beginning. The war will take place on land, water and even in the air. There will be three different campaigns and a free game.


83% 13.9k plays
Published: May 25th, 2012 HTML5 In this great battle game you will occupy enemy territory.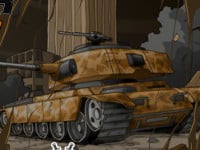 85% 6.7k plays
Published: Jul 6th, 2015 HTML5 This is the fifth game from a successful  series.