Dead Paradise 3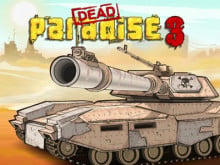 Dead Paradise 3
• Published Jan 18th, 2014 with 7728 plays
Platforms:
Controls:
movement - arrow keys, rotating the gun - Z, X , rockets - space bar, spilled gasoline - C
And here is a third part of this wild action game. Around you is currently a dangerous area, which is full of different enemies. Your task will be to protect the specific vehicle and go with it through this dangerous area. During the way also try to take different bonuses that will certainly help. Let's do it!


67% 4.9k plays
Published: Nov 25th, 2012 Flash After an explosion the world is destroyed and you have to get to safety.


50% 6.6k plays
Published: Jun 23rd, 2013 Flash Get in the car and go through a dangerous area full of enemies.


50% 4.8k plays
Published: Apr 17th, 2015 Flash Crazy game that takes place in a dangerous lab where you will meet a lot of enemies.