DinoSitter
Warning
Adobe has blocked Flash content from running in Flash Player since January 12, 2021. The emulator is still under development, but should be completed by the end of this year.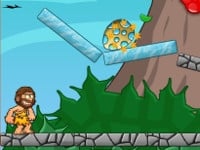 DinoSitter
• Published Sep 17th, 2015 with 5069 plays
Platforms:
Controls:
Mouse = interaction
Become a prehistoric man and make sure the dinosaur egg gets to the right place and the little dinosaur can start its life in the right way. So throw various objects to get things moving. Make sure you aim accuratelly because you only have a limited number of tries.