Dolidon
Warning
Adobe has blocked Flash content from running in Flash Player since January 12, 2021. The emulator is still under development, but should be completed by the end of this year.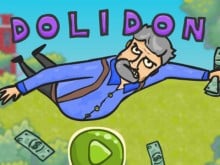 Dolidon
• Published Apr 28th, 2017 with 4793 plays
Platforms:
Controls:
Up




Left

Down

Right

control
A crazy squirrel got into the building and stole dad's golden key that is very valuable. After looking for this squirrel, dad jumped from a window wearing roller blades. Help him get his ring back. Try to help him keep his balance. Don't forget to collect fruits on your way!