Just Park It 9
Warning
Adobe has blocked Flash content from running in Flash Player since January 12, 2021. The emulator is still under development, but should be completed by the end of this year.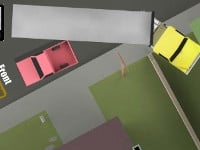 Just Park It 9
• Published May 28th, 2015 with 5138 plays
Platforms:
Controls:
Arrow keys = move, Spacebar = Brake
Your task is to park a huge truck with a trailer. Park on a determined position and be careful not to crash. A destroyed truck would not be very useful. The game has several levels that you must master to go through in the shortest time possible.