Raft Wars 2
Warning
Adobe has blocked Flash content from running in Flash Player since January 12, 2021. The emulator is still under development, but should be completed by the end of this year.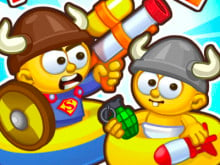 Raft Wars 2
• Published Mar 19th, 2013 with 8263 plays
Platforms:
When our heroes were little, they found a treasure and hid in a secret location. When they came back from holiday an aquapark was standing there. You will now have to create chaos and find the treasure.