Sports Heads Football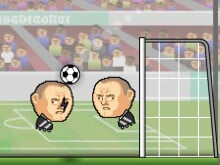 Sports Heads Football
• Published Sep 12th, 2011 with 24470 plays
Controls:
movement: arrow keys, kick - the space bar
In this fantastic game you try to score as many goals as possible. You can play this game with a friend. So have fun!
76% 30.2k plays
Sports Heads: Basketball Championship
Published: Sep 26th, 2013 HTML5 Play basketball one on one either with a friend or the computer.