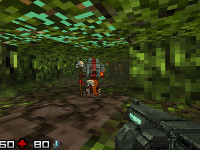 • Published Aug 8th, 2015 with 8113 gameplays
Platforms:
Controls :
Arrow keys = movement, C = shooting, X = running, V = change weapon
Here is a shooting game with retro graphics. You will run through underground corridors and kill many monsters. Collect bullets for your new weapons and try to stay alive for as long as possible. You will be able to see how much energy and how many lives you have left on the screen. Will you survive or die really quickly?