Zombies Can't Jump 2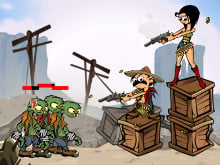 Zombies Can't Jump 2
• Published Mar 2nd, 2016 with 7942 plays
As the title tells you, in this game you will face zombie enemies. Your character's name is Pedro and you also play for his girlfriend Juan. You must survive all the attacks of the dangerous zombies. Defend yourself in any possible manner and buy new weapons to be even more sure of your victory. If you like this game, you can also play the previous part of it.

93% 9.3k plays
Published: Jun 8th, 2014 HTML5 Build defense and shoot incoming robots.

79% 9.8k plays
Published: Jan 8th, 2014 HTML5 Help our hero wipe out all the zombies monsters.