Duke it out in D.C.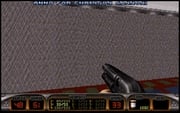 Duke it out in D.C.
• Published Jan 1st, 2015 with 6340 plays
• Year of release: 1997
This shooter brings you back to the game Duke Nukem 3D. The story will be really interesting: President is in the hands of aliens and Duke hears that aliens have even taken over control of Washington D.C. Duke is a true hero who will not stop until he destroys his enemies which are the enemies of the whole free world. Your task is to win the battles and free the President. You will be able to enjoy nine new levels and one secret level. Have fun and complete your mission!