Build Balance 2
Warning
Adobe has blocked Flash content from running in Flash Player since January 12, 2021. The emulator is still under development, but should be completed by the end of this year.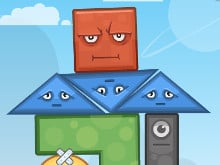 Build Balance 2
• Published Apr 25th, 2016 with 6556 plays
Platforms:
Your task is this game is to keep all the objects in balance. The game brings amazing 64 levels with two different difficulty levels. You will quickly find out that the game gets more and more difficult because you will have to balance more and more objects. So make sure none of them falls down.