Call Of Sword
Warning
Adobe has blocked Flash content from running in Flash Player since January 12, 2021. The emulator is still under development, but should be completed by the end of this year.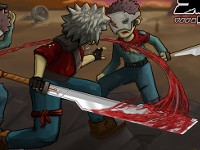 Call Of Sword
• Published Aug 20th, 2015 with 5452 plays
Controls:
Arrow keys = movement, C = attack, C = using an object
Kill your enemies and get away from danger. Find the sword with which you can save the world. You have to be careful not to get killed or fall into an abyss. You will have to face enemies all the time and plan every step of your way.