Furry Things Fight
Warning
Adobe has blocked Flash content from running in Flash Player since January 12, 2021. The emulator is still under development, but should be completed by the end of this year.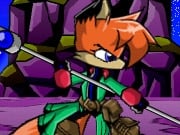 Furry Things Fight
• Published Dec 29th, 2011 with 15280 plays
Platforms:
Controls:
movement - W, A, S, D, attack - F
Furry Things Fight is a fighting game in which you have to choose from a variety of characters and two different modes. It is always played on two winning rounds.