Golden Acres
Warning
Adobe has blocked Flash content from running in Flash Player since January 12, 2021. The emulator is still under development, but should be completed by the end of this year.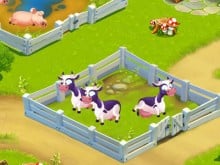 Golden Acres
• Published Sep 14th, 2017 with 17313 plays
Platforms:
Build up your farm and care for your crops. After that, you'll harvest and sell everything. Thanks to the money you'll earn, you can buy new stuff and improve the day-to-day efficiency of your farm. At the start, the game might prove to be difficult, so don't be alarmed if you don't feel like you're succeeding at the start.