Monster Frontier
Warning
Adobe has blocked Flash content from running in Flash Player since January 12, 2021. The emulator is still under development, but should be completed by the end of this year.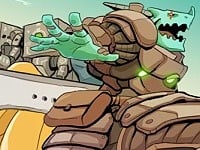 Monster Frontier
• Published May 30th, 2015 with 5618 plays
Platforms:
Controls:
Mouse = interaction
Choose what armor and weapons you will have. After that you can go to the arena and fight the enemies. Try to train your hero so that he can face all the enemies. It will not be easy but we believe that you will be able to protect your land. Start right now!