Tortuga Siege
Warning
Adobe has blocked Flash content from running in Flash Player since January 12, 2021. The emulator is still under development, but should be completed by the end of this year.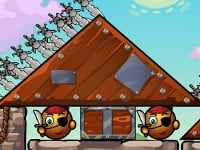 Tortuga Siege
• Published Sep 4th, 2015 with 5664 plays
Platforms:
Controls:
Mouse = interaction
Protect your team from the evil pirates and hide from them if needed. They are throwing swords at you which could kill you. It is important to place various objects around you to protect yourself. We believe that you will succeed and avoid a total disaster. Use all the objects the game offers.