Barbie Fashion Blogger
Warning
Adobe has blocked Flash content from running in Flash Player since January 12, 2021. The emulator is still under development, but should be completed by the end of this year.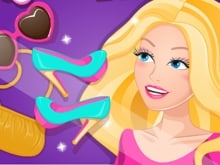 Barbie Fashion Blogger
• Published Dec 6th, 2015 with 8866 plays
Platforms:
In this game you become a fashion blogger in Barbie style. You surely know some from Youtube. For example Cup of Style is really famous. Make your own picture. All you have to do is place the various pieces so that they look good together and you can make the perfect picture. Can you do that?